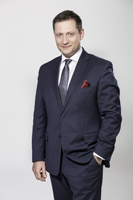 Piotr Ziętara
President of the Management Board of Miejskie Przedsiębiorstwo Wodociągów i Kanalizacji S.A. w Krakowie
He has been with the Kraków Waterworks since 2001. He started his career as a clerk. In the following years he was promoted to the positions of the Head of the Management and PR Office (and at the same time a spokesperson of MPWiK S.A.), Director for Organisation and Personnel Management and Managing Director. In 2015, he became a member of the Company's Management Board and then a Vice President. From 1 April 2017 he has been the President of the Management Board. In the years 2013–2015 he was an authorised agent (prokurent) and a representative for Organisation and Social Communication of Krakowski Holding Komunalny S.A., as part of the implementation of the project to build an eco-incinerator. In July 2017, he became the Vice-President of the Council of the Chamber of Commerce of Izba Gospodarcza Wodociągi Polskie (Polish Waterworks Chamber of Commerce)

Piotr Ziętara graduated from the Faculty of Management at the Cracow University of Economics and post-graduate studies in the field of information security management, modern concepts of enterprise management and methods and techniques of process management. He completed an MBA in Public Management at the Cracow School of Business of the Cracow University of Economics. He has the right to sit on Supervisory Boards.

He has been systematically expanding his education and acquiring knowledge in the field of commercial companies and partnerships as well as management, cooperation and coordination between the company and the market environment and cooperation between statutory bodies. During his work at the Kraków Waterworks, he has successfully built a positive image of the company, participated in the implementation of investment projects, implementation of new management systems and IT tools. He gained experience in managing human resources and managing the company in emergency situations.

For many years, Piotr Ziętara has been cooperating with the scientific community. He is the Chairman of the Steering Committee of the Małopolska Water Cluster. He participates in many conferences and scientific symposia in Poland. He is a member of the Convention of Representatives of the Socio-Economic Environment of the Cracow University of Economics and actively participates in international industry benchmarking workshops organised by the European Benchmarking Co-operation. He was a representative of Izba Gospodarcza Wodociągi Polskie (Polish Waterworks Chamber of Commerce) at the EUREAU wastewater at the European Commission. On 29 April 2019, by a resolution of the Senate of the Cracow University of Economics, Piotr Ziętara was appointed the chairman of the First University Council.
In 2019, Piotr Ziętara, the President of the Management Board of Kraków Waterworks received the Krakowskie Dukaty (Ducats of Kraków) award in the Company Manager category. In the same year he received the Saint Christopher medal - a prestigious award for supporting Kraków traditions.