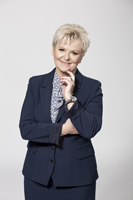 Wanda Słobodzian
Member of the Management Board of Wodociągi Miasta Krakowa S.A.

She started her professional career in one of the largest machine-building factories in southern Poland, Zakłady Budowy Maszyn i Aparatury im. St. Szadkowskiego/im. L. Zieleniewskiego S.A. in Kraków. She has been with Wodociągi Miasta Krakowa S.A. since 2003, first as the Head of Strategy and Development Department, then the Chief Economic and Controlling Specialist, and in the years 2008 - 2018 a Member of the Management Board, Economic and Financial Director.

Wanda Słobodzian graduated from the Faculty of Labour Economics and Social Policy of the Cracow Academy of Economics (now Cracow University of Economics), as well as postgraduate studies in the field of information security management and modern concepts of enterprise management.

During her professional work she systematically supplemented her knowledge with specialist courses, trainings and workshops related to, among others, strategic planning, management of an industrial enterprise, management accounting, budgeting and management of cost centres, preparation of tariff applications, quality management system according to ISO 9001: 2000, information security management system according to ISO / IEC 27001, working time management, principles of financing of construction of technical infrastructure, new methods and sources of financing in the public sector, valuation of companies and capital groups, transmission service easement.

Her professional interests include analysis and management of corporate finances, strategic planning, the use of intellectual capital and the use of modern management methods.