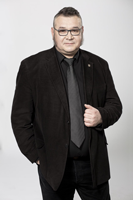 Paweł Senderek
Vice President of the Management Board of Miejskie Przedsiębiorstwo Wodociągów i Kanalizacji S.A. in Kraków
He has been with the Kraków Waterworks since 1999. He started his career in the Company as a Manager of the Tender and Contracts Department, and then gained experience in the following functions: Chief Specialist - President's Representative for Procurement and Investment Preparation, Deputy Director for Investment and Development, Deputy Director for Investment and European Funds, Technical and Investment Director, Technical Director. In the years 2004 - 2017 he was an authorised agent of the company (prokurent). He was appointed the Vice President of the Management Board on 1 April 2017.

Paweł Senderek graduated from the Faculty of Environmental Engineering at the Cracow University of Technology. He completed post-graduate studies in water supply and waste water treatment at the Cracow University of Technology and information security management, modern concepts of enterprise management and methods and techniques of process management at the Cracow University of Economics.

During more than twenty years of his professional work, he acquired and strengthened knowledge and experience in the areas of commercial company operation and company management, cooperation between the company and the market environment, as well as the processes for preparing and awarding public contracts. He also has practical skills in planning and implementing investment projects, organising the technical process and negotiating and resolving business disputes. He has repeatedly represented the Kraków Waterworks in arbitration and mediation proceedings, including before the Court of Arbitration at the Polish Chamber of Commerce in Warsaw. He participated in the effective acquisition of European funds and other external sources, in particular environmental funds. He obtained the necessary qualifications and repeatedly served as the Measure Authorising Officer (MAO).